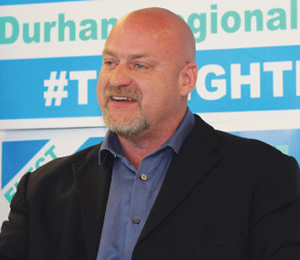 John Mutton
Votes: 15,399
Running for:
Regional Chair, Durham Region
Contact Details:

Not provided on regional site Not provided on regional site
905-441-0791
Visit Web Site
Profile
I am running for Regional Chair because I care deeply about Durham Region and the people who live here. We live in an incredible region, diverse in its people, geography and economy - we can make it so much more.
As Mayor of Clarington, I reduced taxes, and I will do it again as Regional Chair. My experience has also led me to a deep understanding of the different issues and priorities across Durham. Our cities, suburbs and rural communities all present unique opportunities and challenges. It's important that the Regional Chair is able to listen to residents from all areas, and work with them, with municipal elected officials, along with our provincial and federal officials, to make life better for everyone here.
I see a prosperous region, where fewer people are forced to endure long commutes for good jobs. Where agritourism thrives, our communities are safe, and our infrastructure is sound. Where those who do have to commute to work do so on reliable public transit. Where our vulnerable citizens have the care they need and palliative patients are not homeless. Where our greenspace is protected and enhanced, and our quality of life is better than it is in 2018.
---
Comments
Our site is a community friendly portal. We ask everyone to treat other members with dignity and respect. We expect that you use socially acceptable language within your posts. Remember, you are conversing with your neighbours. Anyone not following these simple guidelines will have their posts removed and potentially banned from participating.
Thank you,
AjaxPickering.ca Community Managers
COUNTDOWN TO ELECTION POLLS CLOSING
Polls Offically Closed