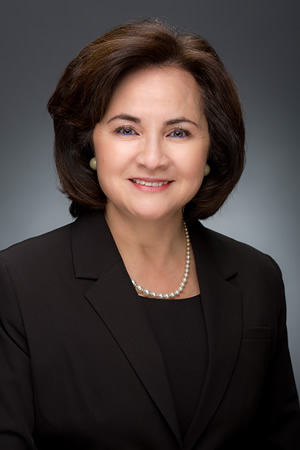 Monique Forster
- INCUMBENT

Votes: 3,572
Running for:
Durham Catholic District School Board Trustee, Ajax
Contact Details:

295 Delaney Drive Ajax
905-767-5146
Visit Web Site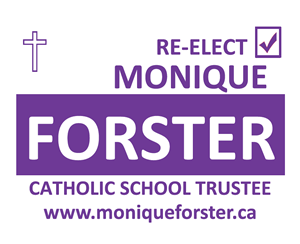 Profile
My name is Monique Forster and I currently serve you as Catholic School Trustee for the Town of Ajax. I also serve as the current Vice-Chair of the Durham Catholic District School Board (DCDSB). My husband and I have resided in Ajax for most of our adult lives and we have had the good fortune of raising here our two children; both proud Ajax Catholic schools' graduates. As a college professor, language instructor and corporate trainer, I am passionate about education. The past four years have been extremely rewarding for me as I have had the opportunity to work closely with parents, students, educators and school board administrators while serving the needs of our students, their families, their teachers and all those who contribute to their education.
Being accountable to the students and families of our catholic community is a responsibility that I take seriously. I have honoured my commitment to you to respond immediately to every concern and issue affecting our students and those who serve them. As a parent and educator, I know that a safe environment is essential for learning and student success to take place. I therefore take swift action ensuring prompt responses are provided to incidents involving bullying and other threats to the safety of our students.
To optimize student achievement, I act in a fiscally and responsible manner by doing my part to ensure the allocation of limited resources in the most effective manner possible. I work diligently to ensure excellence in education for every student regardless of any exceptionality, by fostering and promoting 21st century global competencies along with spiritual development for all students. My previous experience as a Business Manager and Manager of Administration inform my decisions as current Vice-Chair of the Finance Committee and current Vice-Chair of the Audit Committee. My experience as a current member of provincial councils and committees for the protection of the public interest also informs my decisions as a Trustee.
In a world overwhelmed with information but lacking in wisdom, nurturing our spirituality can help us still the noise of the world. A strong connection between school, family and parish will help our children to develop into successful, competent, productive, well adjusted, caring and responsible individuals.
Your vote on October 22 will allow me to continue to serve you with integrity and honesty as Catholic school trustee for Ajax. I will continue to let my faith in Jesus be my guide as I do everything in my power to preserve catholic education for our children and grandchildren.
On October 22 please vote for me, Monique Forster for Catholic School Trustee for Ajax.
---
Comments
Our site is a community friendly portal. We ask everyone to treat other members with dignity and respect. We expect that you use socially acceptable language within your posts. Remember, you are conversing with your neighbours. Anyone not following these simple guidelines will have their posts removed and potentially banned from participating.
Thank you,
AjaxPickering.ca Community Managers
COUNTDOWN TO ELECTION POLLS CLOSING
Polls Offically Closed