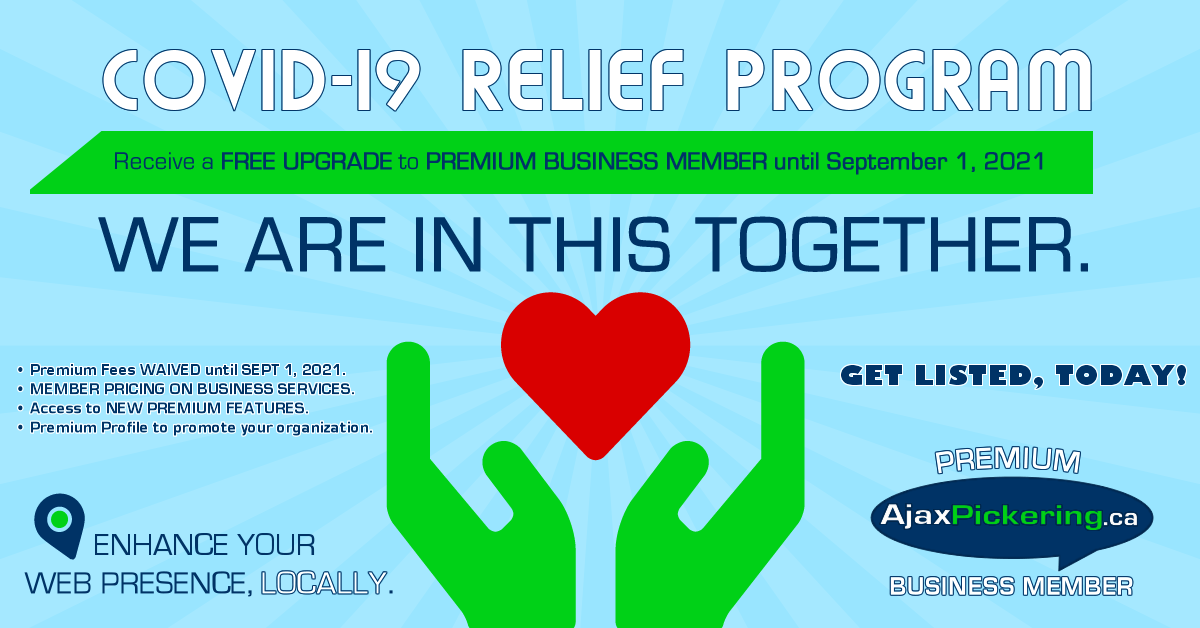 COVID-19 Relief Program from AjaxPickering.ca
COVID-19 has ravaged our business community. Most of our business neighbours have been hit financially, leaving many struggling to keep their doors open. AjaxPickering.ca has been looking for a way we can help out our business community. This has not been an easy time but, together we can make it better.
AjaxPickering.ca has come up with a program that allows all of Ajax and Pickering businesses* to participate without having to pull out their wallets. We have decided to open up our Premium Profiles for businesses, restaurants, and community organizations.
It is complimentary, FREE, and on the house. This program will run until September 1, 2021.
In addition, our relief program also provides businesses with access to all of our member benefits such as: advertising specials, print deals, web service discounts, special member offers, etc. It's all included. This package has a value of up to $880+HST/year. We know in business, every little bit helps.
AjaxPickering.ca specializes in local promotion. Since 2008, we have promoted 100's of local businesses. With this downturn, we are also forced to re-build. This creates an opportunity for our fellow community to become AjaxPickering.ca Premium Members at no cost.
What happens after September 1, 2021.
Do I have to pay $880/year?
The answer is NO. There is no commitment after the year is through. You can downgrade your premium profile for free and keep a basic listing. We, however, we are positive you will want to keep your premium profile next year and we are even sweetening the deal -- we are further committing to the lowest fee we have EVER charged, $365+HST -or- $35+HST/month, the choice is yours come September 1, 2021! This is the amount we charged when we launched 12 years ago in 2008! We are so confident we can help your business through this economic downturn that we are putting our expertise at your fingertips.
We have been there for the community during the highs and lows. We are looking to ride this economic downturn together and grow and strive by your side.
All we need from you is your information, see below. We will send you all the details and how to get your business listed for free with AjaxPickering.ca
How to Join.
**By completing the form below, you will receive an email from AjaxPickering.ca with a template to fill out to submit back to us with all of your business information we require to complete your complimentary/free AjaxPickering.ca profile.
AGAIN, YOU WILL NOT BE CHARGED TO SUBMIT YOUR PROFILE AND INFORMATION TO US TO BE POSTED.
* The AjaxPickering.ca COVID-19 Relief program is currently available to Ajax and Pickering organizations ONLY. Starting October 15th, organizations not located in Ajax Pickering, yet serve these communities, will be available to participate in this program.
**PLEASE NOTE: This form is ONLY to be completed by an OWNER or AUTHORIZED DESIGNATE of the organization applying for the AjaxPickering.ca COVID-19 Relief Program.