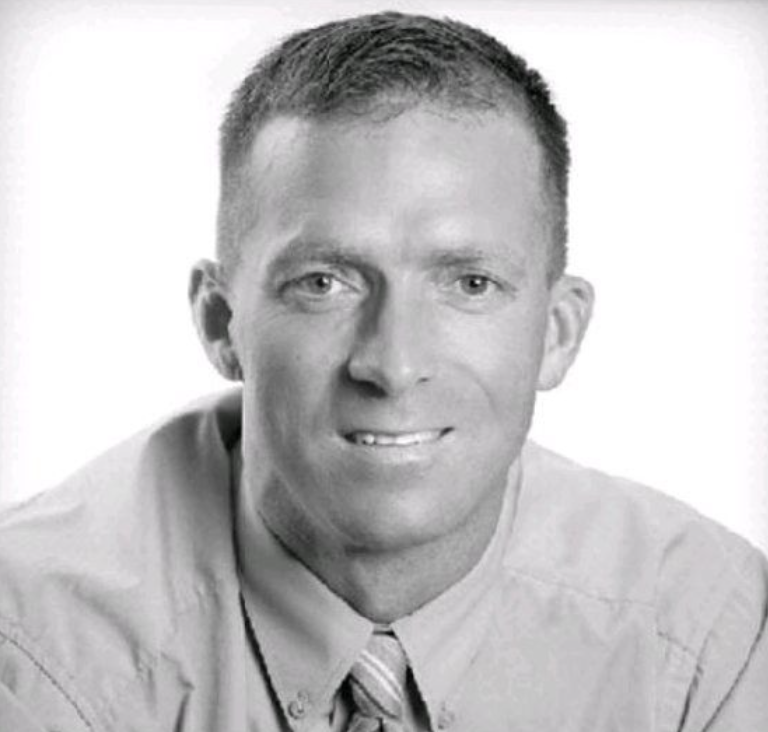 About James
Hello Neighbour, and fellow residents of the numerous communities that make up the area known as Ward 1 in the City of Pickering. My name is James Blair, and I have put my name forward to stand for the elected position of City of Pickering Council Ward 1 this October 24th 2022.
I hope to connect with as many of you as possible while I campaign in your area or on your street over the next few weeks.
Over the past 22 years of living and working within the Amberlea community and teaching as a secondary school teacher and coach with the Durham District School Board at Dunbarton High school, I have come to know many students, parents and families that make Pickering home.
In recent years, I, too, have started a family that calls our Community home. Both our young lads are proud attendees of Highbush Public School.

I, along with many residents, have become concerned with the direction of the City of Pickering. The seemingly endless push to follow other GTA communities on a quest to build more homes and high-rises on some of the best agricultural lands in Ontario at the command of land speculators and developers instead of addressing the current needs of residents in our community.

I respectfully ask, over the next few days, when you have a moment, to read over a few key ideas that I firmly believe need to be implemented to help protect our numerous communities in Ward 1. These plans will also help to promote and grow a stronger sense of community across the City of Pickering and cement a stable economic future for the entire City of Pickering for years to come.
Thank you for your time,
James Blair

Name: James Blair
Age: 52
Employment: Durham District School Board (Secondary School Teacher) Area of Certification: Politics, Guidance & Physical Education

Family: Happily living with my lovely partner, father to two wee lads, aged 8 & 9 & Step-Father to a 18 year old.
Education:

Edinburgh Napier University
Master of Business Administration - MBA 2019 (Innovation and Leadership) Supporter of innovative & disruptive change that enables productive growth while supporting and maintaining positive and collaborative leadership practices.
D'Youville University
Politics, New York State Professional Teachers Certificate 1999
Brock University
Bachelor's degree, Political Science and Government. Area of study (Canadian Federalism) 1998

Licenses & certifications:

Principal's Qualification Program
Trent University

Psychological First Aid
Canadian Red Cross

Mental Health First Aid
Mental Health Commission of Canada
Mental Health for Managers
Workplace Safety & Prevention Services
Ontario College of Teachers Certification
Canadian Armed Forces
Methods of Instruction
Volunteering:
Mental Health Commission of Canada
National Advisory Committee Member
Dec 2021 - Present · 11 mos
Member of an advisory committee focused on identifying barriers and challenges to implementing new programming on a national level that promotes Mental Health awareness, stigma reduction and harm prevention programming for Canadian youth.

Board Member
Mount Horeb United Church Cemetery
Apr 2019 - Present · 3 yrs 7 months

Public Awareness Committee
Durham Food Policy Council
Oct 2010 - Dec 2012 · 2 yrs 3 months

Community Farmers Market Co-Organizer
University of Toronto
Jan 2011 - Oct 2011 · 10 months
Helped organize and establish the University of Toronto Scarborough Campus Farmers Market.

Ontario Shores Centre for Mental Health Sciences
Dec 2011 - Sep 2012 · 10 months
Promoting employment & therapeutic opportunities for clients dealing with mental health concerns by growing plants and vegetables for sale in local farmers markets.

Board Member and Current Pickering-Uxbridge E.D.A Secretary
Progressive Conservative Party of Ontario
Sep 1983 - Present · 39 yrs 8 months
Past Board Member, Candidate for Nomination 2004 and volunteer. Conservative Party of Canada Sep 2002 - Dec 2020 · 18 yrs 7 months
Community outreach, candidate support and past board member. Former Candidate Nominee for Haliburton-Kawartha Lakes- Brock 2004
Board Of Directors
Land Over Landings
Jan 2010 - Jan 2012 · 2 yrs 1 months

International Rugby Board
Level 2 Rugby Referee
Jan 2005 - Jul 2014 · 9 yrs 8 months

Durham District School Board
Rugby & Wrestling Coach (PRSS 2000-2005)&(DHS 2004-2017)
Sep 2000 - Jun 2017 · 17 yrs
Athlete, Board Member & Coach
Lindsay Rugby Club
Apr 1985 - Sep 2007 · 22 yrs 9 months

James's Literature
View James's Literature
Platform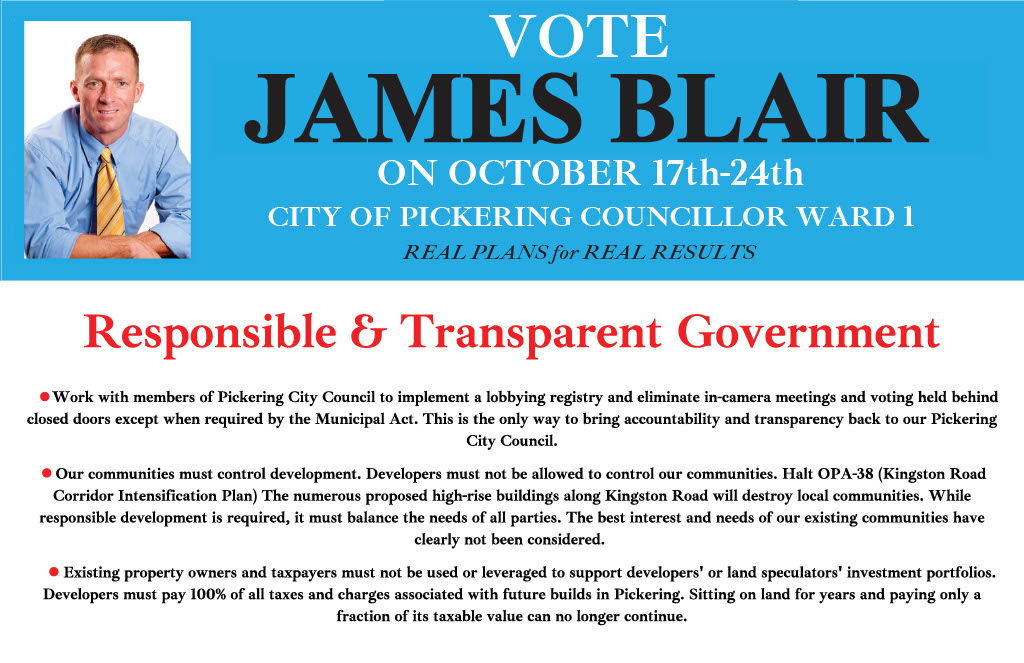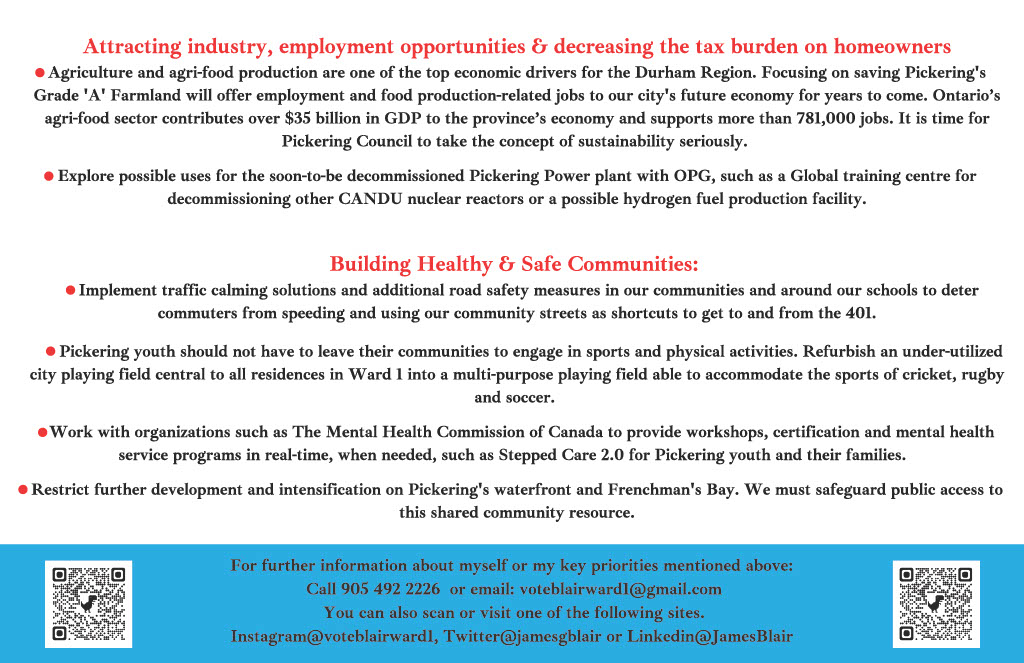 Refer James Blair
The most sincere form of support you can show for James Blair is a referral to your friends and family who are of voting age. Please take a few moments to fill out the form below.
Provide Feedback to James Blair
E-Mail James Blair