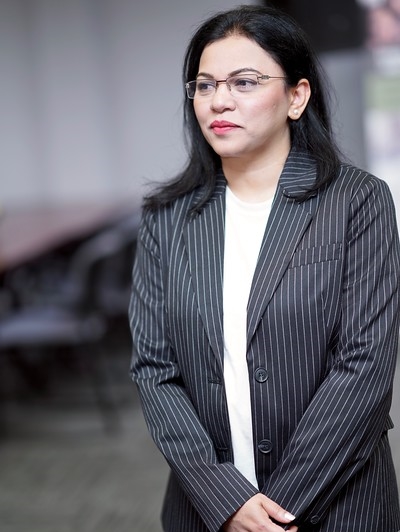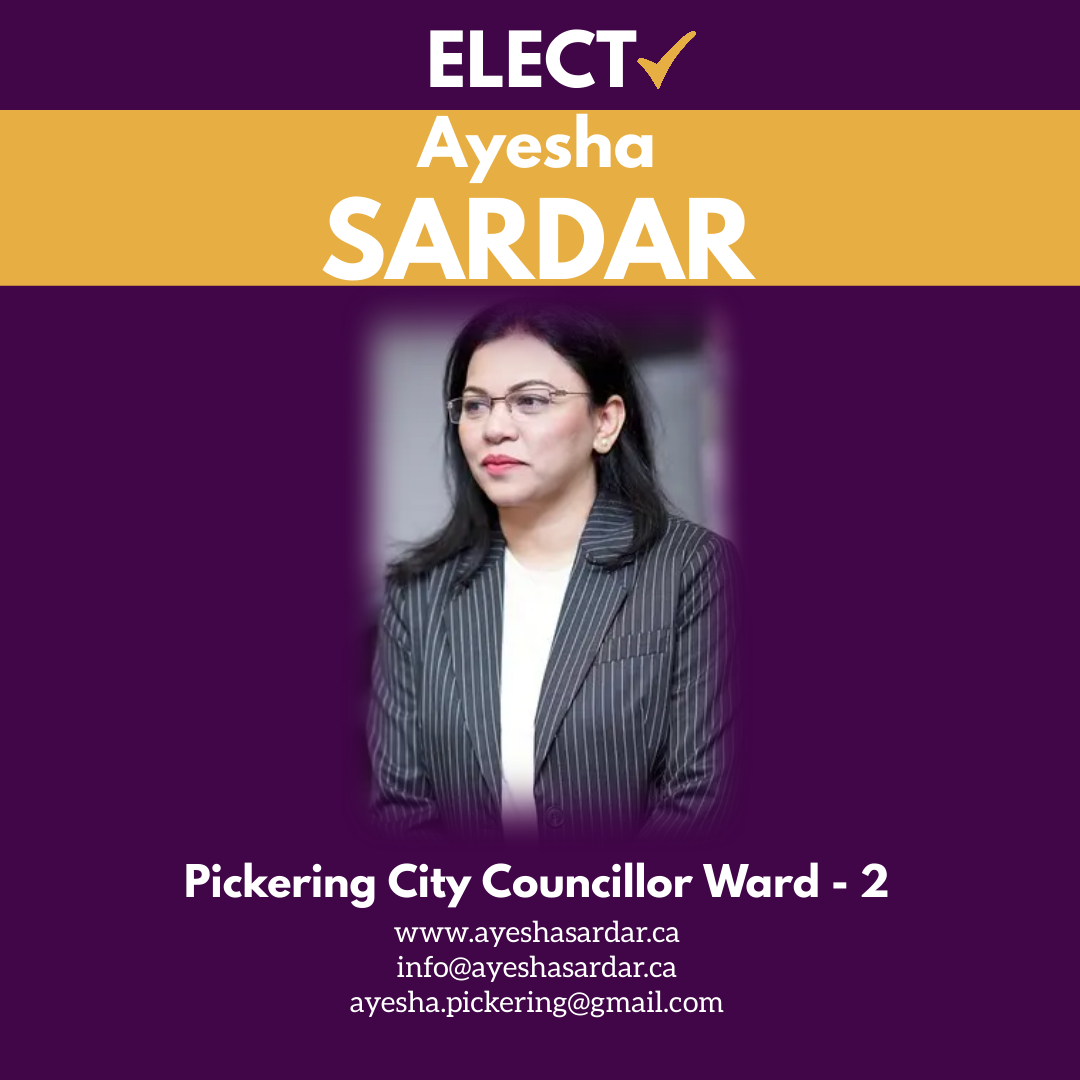 Ayesha Sardar
Candidate - Councillor Ward, 2
Pickering
Campaign Office:
Virtual Campaign Office

Visit Our Web Site
About Ayesha
Ayesha is a service-focused social worker and program coordinator with a strong commitment to serving the needs of disadvantaged youth, adults, and seniors including homeless, emancipated youth and special-needs populations. She is skilled in building community support, key coalitions and strategic interagency partnerships, backed by solid strengths in program, personnel and case management. She has worked for the well-being of communities in India, South Africa and Canada.

She is the founder of a not-for-profit called Public Allies whose aim is to ensure that the most vulnerable members of our society receive the help and support they need to overcome their challenges which includes counseling sessions for at-risk youth, support groups for seniors, workshops for caregivers, establishing a youth-to-youth support system and creating awareness through educational webinars online. Public Allies is the recipient of Community Civic award 2021 for its outstanding achievement in helping the community under her leadership.

She is also a member of the Advisory Committee to The City of Pickering. She is a Creative Advisor and an ambassador to Companies in Canada and abroad. She was named the executive director of a community platform built for South Asians called Global South Asian Women (GSAW) in January 2021. She is sought after as a motivational speaker and as a subject matter expert in Canada and other parts of the world.

Platform
RATIONALIZED PROPERTY TAX
- Reduce impact of unreasonably high property taxes
- Freeze/cap on Property tax until Inflation is brought under control (less than 2%)

SUSTAINABLE ALL-ROUND DEVELOPMENT
- Focus on enhancing infrastructure to be able to handle expected increase in Pickering population
- Broaden the mix of homes so there are some 4 - 6 storey apartments and townhouses, rather than just high-rise buildings
- Clinics and Healthcare Centres to be promoted in each new Highrise, block of buildings/strip mall
- Better Care homes for Seniors
- Affordable housing support for vulnerable families and seniors
- Widening and regular maintenance of roads
- Expansion of existing schools and address urgent repair needs
- Adding new schools to address anticipated increase in population
- Identifying places for new services such as grocery, stores gas stations etc.
PROSPERITY FOR ALL
- Attracting investment and jobs to Pickering.
- Focus on employment generation by making it easier to set up businesses in Pickering.
- Explore tax incentives that can be extended to companies which will be tied with the number of jobs created.
- Revitalize waterfront areas to attract more visitors.
- Resolve Lakefront parking issue collectively with residents and local business owners.
- Identify more areas where food trucks can operate (parks, city hall, rec centre, etc) during weekdays or certain hours on weekends.
- More support for small local business by helping to set up farmer\'s markets and pop-ups in more areas.
- Create supportive environment for start-ups/innovative companies to set up shop in Pickering.
- Policy emphasis on ease of starting, operating and growing businesses in the city.
- Collaborate with business forums (both currently existing on Pickering as well as others outside) to identify and work on their needs to assist them in their growth.
- Promote entrepreneurship amongst the youth and recently graduated communities.
CLEANER AND GREENER PICKERING
- Promote environmentally friendly policies and legislation
- Identify areas within Pickering where level of greenery can be increased - parks to be distributed evenly throughout the city, consider converting unused lots to small community parks/green spaces
- Promote green rooftops, green walls, green facades and solar installations on all buildings through subsidies
- Green bus shelters to be promoted
- Promote passive housing i.e. buildings which consume up to 90 percent less heating and cooling energy than conventional buildings, buildings which take advantage of natural light, etc
- EV charging stations at all major malls/municipal offices
- Sponge sites for rainwater absorption/flood prevention
- Enhanced maintenance of current parks and identify new areas where family-oriented recreation spaces can be created
- Enhanced waste collection and management - aim to recycle 100% of the city's recyclable waste
- All city transport vehicles to be Hybrids or EVs
- More bicycle and pedestrian friendly paths
- Work with all relevant stakeholder for establishing a dedicated bus rapid transit (BRT) to McCowan/Scarborough Centre subway stations

Refer Ayesha Sardar
The most sincere form of support you can show for Ayesha Sardar is a referral to your friends and family who are of voting age. Please take a few moments to fill out the form below.
Provide Feedback to Ayesha Sardar
E-Mail Ayesha Sardar