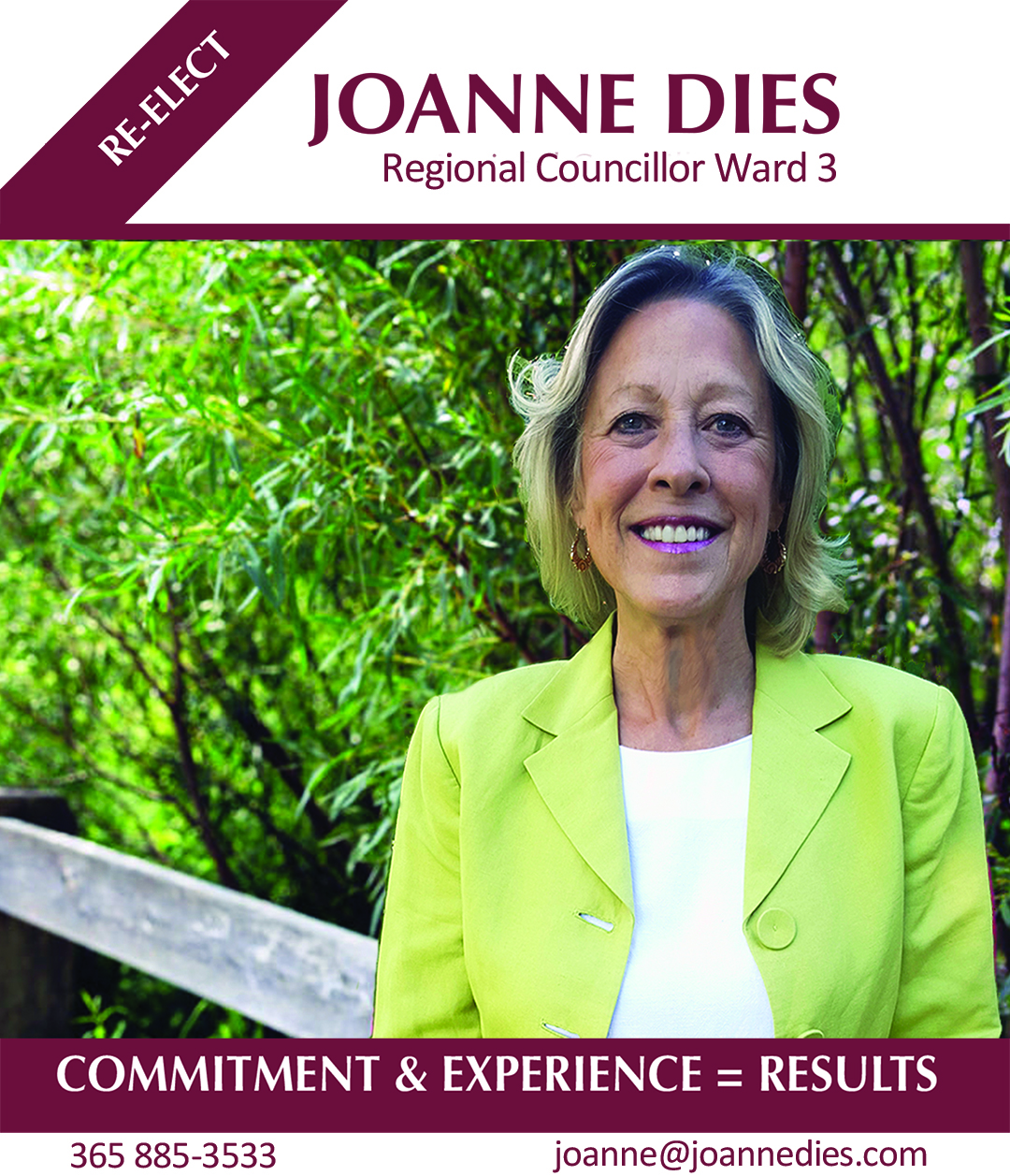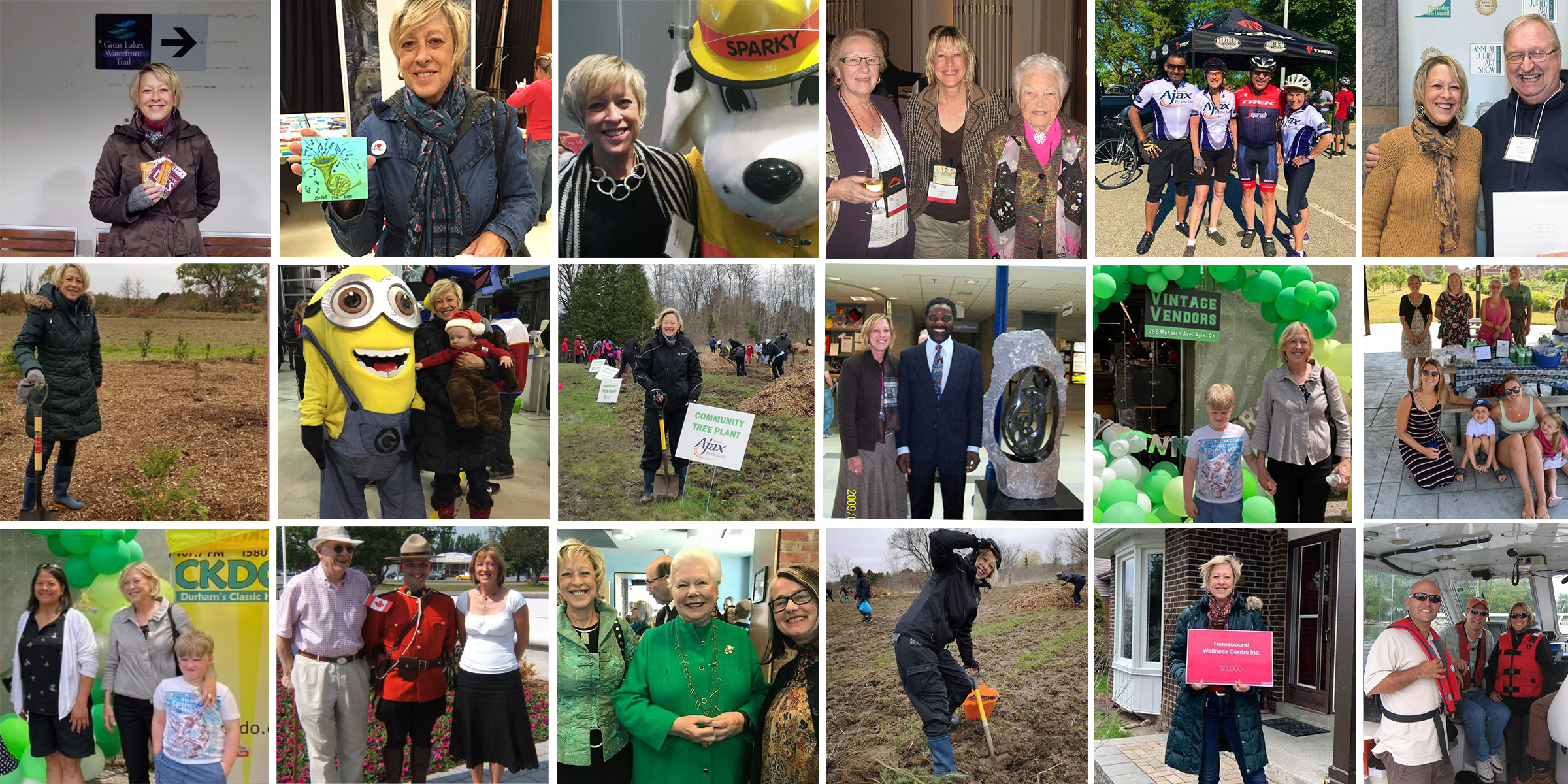 About Joanne
Joanne and her family have lived in South Ajax for 23 years. Before politics, she enjoyed a career as a Certified Dental Nurse working in Toronto.

As an active community member, her passion for the arts led to promoting the Durham Region's arts industry.

• As a musician and founding member of The Pickering Community Concert Band, Joanne continues to play the French Horn with the band.

• As an Executive Member of the PineRidge Arts Council, she collaborated on Durham's first art show, "Art on the Esplanade."

• As a Councillor, she successfully lobbied to include art in public spaces with installations enhancing our waterfront and public spaces indoors and out.

• And she supported the Town's purchase of the historic St. Francis De Sales Church and its rebirth as the St. Francis Cultural Centre.

As a supporter of public education, Joanne was the SCC chair at Duffins Bay Public school and a Durham District School Board SCC Steering Committee member.

She was a proud Board Member and past chair of Community Development Council Durham supporting the implementation of the Newcomer Welcome Centre and establishing Ajax's first Community Garden. This experience gave her a well-rounded knowledge of the community and gaps in program services.

Throughout her life, Joanne has always been a strong advocate of environmental issues and actively supported the implementation of the Greenbelt in 2005, one of the original Green Divas!

She has been awarded the DEAC Lifetime Achievement Award

Believing the environment is our "Natural Capital" and has an irreplaceable value, Joanne has fought to protect agricultural lands and the headwaters of the Carruthers from development which would flood homes downstream in Ajax and destroy prime agricultural lands.

She appreciated and supported the hard work of EANAP "Environmental Action Now Ajax Pickering" as they recently worked towards saving the wetland. A fantastic accomplishment, proving that "people make the difference."

Together with PACT-POW, she led the fight to reduce phosphorous loadings from the Duffins sewage plant to reduce algae and protect water quality. They received the Irene Kock Educational/Communication Award from Durham Region.

She followed her interest in water with the Great Lakes St. Lawrence Cities Initiative attending Bi-National meetings and working with the Coastal Resilience Committee.

She is currently a member of the Regional Health and Services Committee, a Board Member of Durham Not for Profit Housing, and a member of the TRCA Executive Committee and TRCA Board and Regional Watershed Alliance and an active member of the Ajax Homeless Task Force.
Joanne became a Ward Councillor in 2003 and a Regional Councillor in 2018.

Joanne enjoys representing the public and learns from them every day, she will tell you that the best part of this job is the people she meets.


Platform
Joanne's experience as a regional and local councillor has laid a strong foundation of community development. Joanne works with municipal, regional and provincial governments on issues that directly affect the overall health and viability of Ajax, the building blocks for a strong local economy.

Joanne is committed to:
• Protecting the headwaters of the Carruthers Creek from development, a risk of flooding homes in south Ajax.
• Supporting more housing choices = affordable options.
• Collaborating with the Homelessness Task force and the community to address issues of homelessness.
• Supporting development of the Seniors Strategy and programming in the Recreation and Parks Master Plan
• Providing safe streets with traffic calming initiatives, well planned pedestrian and cycling connections.
• Advocating to protect agricultural and Greenbelt lands from urban sprawl.
• Engaging the community in discussions on growth and intensification.
• Advocating for Ajax Downs Casino, supporting tax benefits, jobs and Quarter Horse Racing.
• Preparedness and Adaptation Strategies to respond to more frequent climate change storms.
• Fiscally responsible when considering budget decisions and property tax.

Refer Joanne Dies
The most sincere form of support you can show for Joanne Dies is a referral to your friends and family who are of voting age. Please take a few moments to fill out the form below.
Provide Feedback to Joanne Dies
E-Mail Joanne Dies